Plant Engineering
Worldwide networks, unsurpassed logistics systems, rigorous operations. these are the strengths of Sankyu's 3PL
Sankyu's plant engineering and installation services meet the needs of the industrial world with a design department that boasts a wealth of achievement, with the best plant fabrication factories in Japan. Our expert technical and engineering groups work closely with each other in implementing various projects in the steel, petrochemical, power, energy and environmental sectors. The most distinctive feature of these services is that we have achieved a thorough "system of single-source responsibility" based on our extensive track record and our collective technological strengths, from equipment design to transportation, installation and maintenance. By having all of the processes completely managed by Sankyu, not only can we ensure high quality, but we can also make operations more efficient and reduce construction time.
Flow of Plant construction processes


Plant Design & Engineering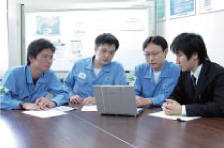 Our services range from basic plans for various plant components to detailed designs. We propose plans that reflect our fieldwork expertise in client needs, and we coordinate everything from planning to implementation.

Plant Fabrication & Processing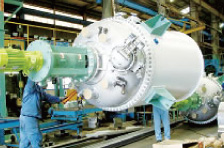 Based on strict quality control and process control, we use state-of-the-art technology to fabricate and process various types of plant equipment, piping, steel, steel-frame structures, offshore structures, bridges, and transportation equipment.

Transportation of Heavy Loads
We have established a system for safely, reliably and swiftly transporting and installing heavy items of several thousand tons using such methods as the "jack-up construction method" and the "unit-dolly module construction method" which are suitable for larger cargo.

Plant Construction & Installation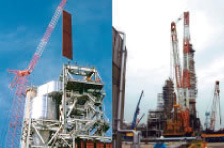 We are engaged in the overall construction of plant buildings, the basic construction of equipment and machinery, the installation of machinery into plants and piping work, meeting the needs of a wide range of industries, including in the petrochemical, steel, environmental and power sectors.

Bridges Fabrication & Construction
Our services range from the design and fabrication of all kinds of bridges, including road bridges, railway bridges, pedestrian bridges and water-pipe bridges, to actual erection and floor slab work, as well as maintaining the function and performance of expressways.

Page Top